OneSpare gives business owners an easy way to handle charitable donation requests and efficiently connect with nonprofits. These organizations are happy to promote generous businesses to their supporters. Thanks to OneSpare, business owners save countless hours and all the headaches associated with responding to donation requests. Best of all, donation requests can now create revenue and new clients.
How it all started
Back in 2011, founder Mike Last was starting to build a company to convert vacations into donation. He would often ask vacation homeowners "Do you have one spare week that you could donate?" Surprisingly, most had plenty of spare weeks that were available and Last knew from personal experience that donation requests can be a sizable headache.
And with that, "OneSpare" was born to aggregate vacations that could be converted into donations. Significant resources have been allocated to create an ideal platform for vacation providers (and much more).
OneSpare over the years
It became clear that vacations were not the only "hot items" at nonprofit galas so OneSpare began to add golf foursomes, cruises, guitar lessons, wine samplings and all sorts of fun experiences. Today, we are proud to say that we've aggregated nearly $100M in fun experiences!
It was also widely recognized that generous businesses were hounded (often several times per day) by nonprofits seeking donations. Before OneSpare, most business owners struggled to manage the barrage of donation requests since each represented sizable effort and headaches. The process of deciding which organizations to support, verifying that the request came from legitimate a 501(c)(3) organization, gathering promotional materials, and struggling to track redemptions, (you know the drill).
Thanks to OneSpare, responding to a donation request is now as simple as saying, "We'd love to help your organization! Request a donation on our website and we can get you our promotional materials". The OneSpare team verifies IRS (501c3) status and ensures that each qualified nonprofit is provided with photos, details, videos and all that they need to promote the fun experience (golf, vacation, cruise, lesson, gift card, etc).
OneSpare ensures that integrity is maintained, and participating providers automatically receive valuable contact information for the event organizers and certificate holders. This is valuable for follow-up sales campaigns.
OneSpare keeps you in control; you decide how many qualified nonprofit organizations you'd like to support. OneSpare leverages the promotional power of nonprofit fundraising events, builds your "brand halo", saves time and generates meaningful incremental revenue.
---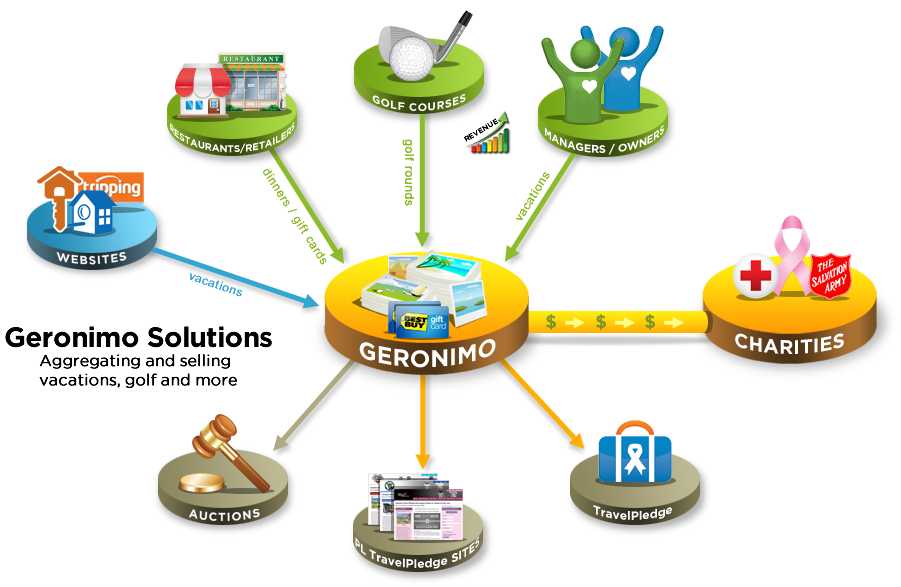 Cruise Providers
We make it easy for cruise lines to reach an affluent audience; avid supporters that attend black tie galas and visit private label nonprofit websites. Added "move the needle" incremental revenue.

Retailers / Restaurants
Our API ties into a major gift card provider. Our solution can completely handle gift card distribution to nonprofits for major retailers and restaurants.

Golf Courses and Resorts
Our solutions (OneSpareTeeTime and OneSpareGolfVacation) completely automate the process of supporting nonprofits and filling slow periods. Participating golf courses and resorts are automatically promoted at fundraising events and on private label fundraising websites.

Vacation Providers
We provide automated solutions for vacation providers to promote their businesses and fill slow season weeks. Our focus is always on off-season availability and last minute vacancies and our solution ensures rate integrity.

TravelPledge
TravelPledge allows "fun lovers" to support their favorite cause by playing golf, taking a guitar lesson or even going on a vacation or cruise.

Private Label Websites
We build custom private label websites for nonprofits that feature $Millions in vacations, golf, lessons, cruises and more. nonprofit leaders enjoy free access to all the tools to help convert fun experiences into donations.

Fundraising Auctions
We connect fundraising events with generous experience providers, and we provide all the promotional materials (videos, slide shows, flyers) to help convert those experiences into big donations at silent / live auctions and raffles.

nonprofits
We give nonprofits all the tools to convert a huge selection of fun experiences into big donations: promotional flyers, videos, logos, photos and more.

Aggregated Experiences
Geronimo Solutions aggregates $Millions in fun experiences that are being converted into donations by thousands of great causes.