About OneSpare
OneSpare gives business owners an easy way to efficiently connect with non-profit organizations. OneSpare keeps you in control, makes it easy for you to effortlessly manage donation requests and to convert these requests into meaningful promotion and revenue. Post a limited number of fun experiences and they'll be promoted by verified non-profits. You'll leverage the promotional power of non-profit fundraising events, build your "brand halo", save time and generate incremental revenue.
Before OneSpare, many business owners struggled to manage the "barrage" of donation requests because each donation request represented lot of effort; gathering promotional materials, making a donation decision, printing promotional pieces, verifying non-profit status, etc.
Thanks to OneSpare, responding to a donation request is now as simple as saying, "We'd love to help your organization… request a donation on our website and we can get you our promotional materials". The OneSpare team verifies IRS (501c3) status and ensures that the non-profit is provided with photos, details, videos and all that they need to promote the fun experience (golf, vacation, cruise, lesson, gift card, etc) posted. By displaying your experience and delivering your message exactly the way you want it delivered, your business automatically builds its "brand halo" and non-profits raise more money at their fundraising events. A win-win.
OneSpare enables golf courses and resorts, vacation rental managers, golf professionals, cruise lines, music instructors, restaurants and retailers to leverage the amazing promotional reach of thousands of non-profit organizations to promote their unique experiences. Rate integrity is maintained, and participating providers automatically receive valuable contact information for the event organizers and certificate holders. This is valuable for follow-up sales campaigns.
The next time you receive a donation request, you'll have an easy way to respond and you'll know that your business will receive the promotion it deserves at black tie galas and on custom websites built specifically for affluent non-profit supporters.
---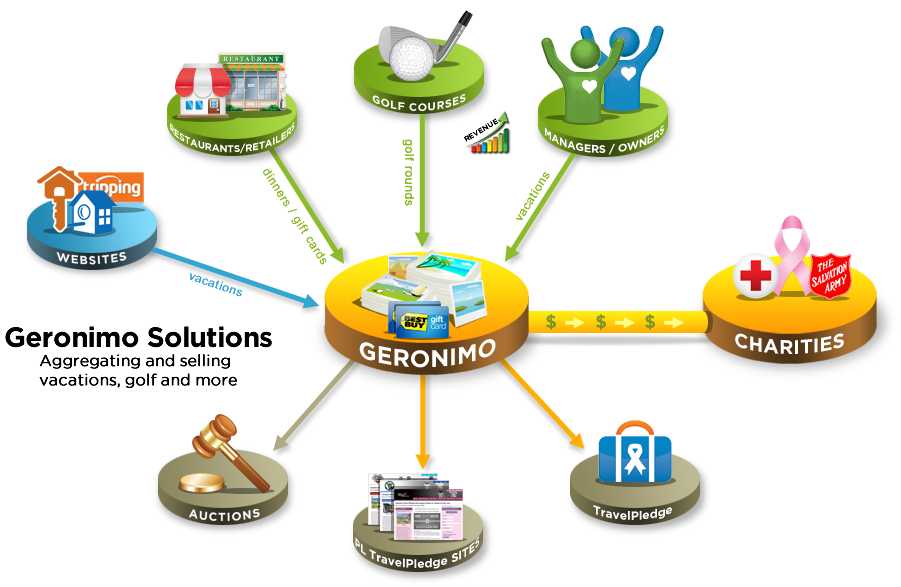 Cruise Providers
We make it easy for cruise lines to reach an affluent audience; avid supporters that attend black tie galas and visit private label non-profit websites. Added "move the needle" incremental revenue.

Retailers / Restaurants
Our API ties into a major gift card provider. Our solution can completely handle gift card distribution to non-profits for major retailers and restaurants.

Golf Courses and Resorts
Our solutions (OneSpareTeeTime and OneSpareGolfVacation) completely automate the process of supporting non-profits and filling slow periods. Participating golf courses and resorts are automatically promoted at fundraising events and on private label fundraising websites.

Vacation Providers
We provide automated solutions for vacation providers to promote their businesses and fill slow season weeks. Our focus is always on off-season availability and last minute vacancies and our solution ensures rate integrity.

TravelPledge
TravelPledge allows "fun lovers" support their favorite cause by playing golf, taking a guitar lesson or even going on a vacation or cruise.

Private Label Websites
We build custom private label websites for non-profits that feature $Millions in vacations, golf, lessons, cruises and more. Non-profit leaders enjoy free access to all the tools to help convert fun experiences into donations.

Fundraising Auctions
We connect fundraising events with generous experience providers, and we provide all the promotional materials (videos, slide shows, flyers) to help convert those experiences into big donations at silent / live auctions and raffles.

Non-Profits
We give non-profits all the tools to help convert a huge selection of fun experiences into donations. Full tracking and reporting, automated promotional flyers, videos, provider logo, photo easy tools to promote fun experiences to supporters.

Aggregated Experiences
Geronimo Solutions aggregates $Millions in fun experiences that are being converted into donations by thousands of great causes.